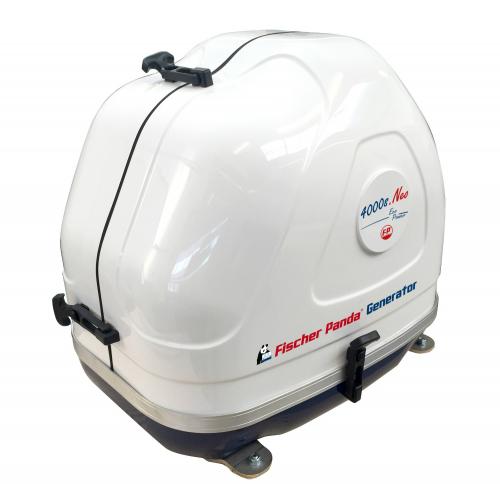 Fischer Panda has introduced the new 3.4 kW (4.25kVA) Panda 4000s Neo marine generator featuring its in-house designed water-cooled FPE320 single cylinder diesel engine with integrated oil filter and synchronous alternator for even lower running noise levels and reduced vibration.
The compact, fixed-speed AC generator is the perfect solution for boat owners looking for an easy-to-install unit to provide continuous 17amp output to charge batteries and run a range of domestic appliances as well as some on-board electrical systems.
Weighing just 93kg and measuring 550mm (length) x 450 (width) x 518 (height), the lightweight Panda 4000s Neo is suitable for boats from around 35ft to 50ft, especially those with limited space. It provides 230 V / 50 Hz electrical power and runs extremely quietly at a noise level of 54db(A) at a distance of 7m.
The 4000s is 'twin circuit cooled' via an integral heat exchanger and treated sealed fresh water circuit, an efficient system featured in the majority of Fischer Panda's AC gensets.
Chris Fower, Marine Sales and Marketing Manager for Fischer Panda, said: "The Panda 4000s Neo is ideal for boat owners looking for a reliable entry-level generator at a favourable price. Our customers will also appreciate how convenient and easy it is to install and maintain with all the connections on one side.
"It is extremely compact so that is fits in very tight spaces on smaller boats, while the integration of the newly designed Fischer Panda FPE320 engine and sound insulation capsule makes the 4000s the quietest, lightest and smoothest of any fixed speed single cylinder generator, so you can relax while the generator runs.
"The 4000s offers freedom to boat owners as an independent solution away from shore or marina power and can be used to charge your batteries, run domestic equipment such as a TV, laptop, kettle, coffee machine microwave, vacuum or hair dryer. It can even run a small air conditioning unit, watermaker or diving compressor."
The Panda 4000s Neo is the latest addition to Fischer Panda's 'entry level' range of compact, lightweight units and is the re-design of the longstanding and popular Panda 4000s FC.
The Panda 4000s Neo is available from April 2017, ready for this year's ARC (Atlantic Rally for Cruisers), at a typical sale price of circa £4,500 + VAT.
Fischer Panda is the leading distributer of mobile, quiet diesel generators and offers the market's largest selection of marine generators from RIBs up to super yachts.
The new Panda 4000s Neo marine generator will be presented at this year's Crick Inland Boat Show from May 27th to 29th on Stand WW61/63 and will be at Southampton Boat Show on Stand E020.